All camps listed below will be housed in Cedarkirk Tents at Denton Lake unless otherwise noted.
Entering 7th grade – High School Graduates
Night Owls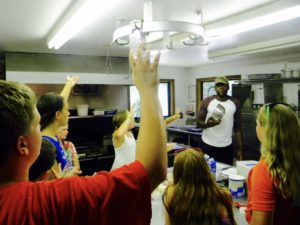 Do you like staying up late and sleeping in?  Then this camp is designed for you!  We will begin our day with breakfast at "lunch time", lunch at "dinner time" and cookout dinner around 10 pm. By day enjoy your favorite camp activities like arts and crafts, boating, swimming and more.  Explore and play at night with campfires, Bible study, night hikes, glow in the dark games and worship under the stars around 2 am. Bring flashlights and extra batteries to keep up with the fun!!!
July 16 – 22
Aug 6 – 12
$700
Register online
 Lights, Camera, Action
Do you enjoy taking pictures or making videos?  Create a story with your fellow campers and learn new skills as you develop it into a video to share during Saturday's closing program.  Your creations may also help introduce future campers to Holmes!  You'll also enjoy some of your favorite camp activities, including high ropes, swimming, Bible study, visiting The Farm and more!  If possible, campers should bring their digital camera (that is not a phone!); we will have a limited number to share with the group.
July 30 – August 5
$700
Register online
 Bike Camp
Bring your mountain bike to camp!  Together, you will learn some safety and basic maintenance skills before your group takes day trips to local scenic bike trails.  You'll also participate in some of your favorite camp activities including archery, Bible study, canoeing and more!  If possible, campers should bring their mountain bike and helmet, or campers can rent bikes when registering for Bike Camp.
July 9 – 15
$700
Register online
Entering 10th grade – High School Graduates
Extreme Adventurers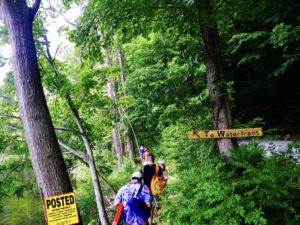 For the experienced camper with a sense of adventure! Come squeeze as much adventure as you can into one week! You will enjoy putting your skills to the test, hiking on the Appalachian Trail, river canoeing and much more! Join others as you take in the wonders of God's creation through an outdoor recreation lens!
July 30 – August 5
$725
Register online
S.A.L.T. – Service And Leadership Training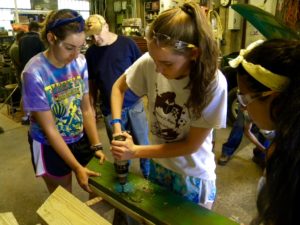 Are you interested in putting your faith into action and make a difference?  During these two weeks, you will help with projects here at Holmes, lead worship during Friends Day and in a local church, and serve within our local communities.  S.A.L.T gives you the chance to explore what it means to be the servant leaders Jesus calls us to be. Come prepared to have fun and work hard!
July 23 – August 5
$1,000
Register online

L.I.T.E. – Leaders In Training Experience
(entering 12th grade and High School Graduates)
The Leaders in Training Experience is designed as a three-week program for youth who want to excel in leadership positions at camp, church, school, and beyond! The focus of this camp is on personal faith development, Biblical theme familiarity, group dynamics, listening and communication skills with an emphasis on leadership and behavior modeling in camp.
L.I.T.E. campers begin their time with a week of training similar to our staff training, exploring how to utilize your strengths and work as part of a team, as well as participating in camp activities.  L.I.T.E. campers will then have two weeks to put their training into practice, shadowing staff as they serve as program staff and/or junior counselors.
This is an excellent opportunity for youth to step out in faith, try new things, and grow in responsibility in a supportive, Christian setting!
July 9 – 23
$1,000
Register online
Once you have registered, you will then be asked to fill out an online Application, provide 3 references and be available for an interview.  Your registration is not complete until you have completed the application process.
Please contact Natasha Taylor, Summer Camp and Youth Programs Director by email at ntaylor@holmescamp.org  or by phone at (845) 878-6383 with any questions.