2018 Summer Camp Schedule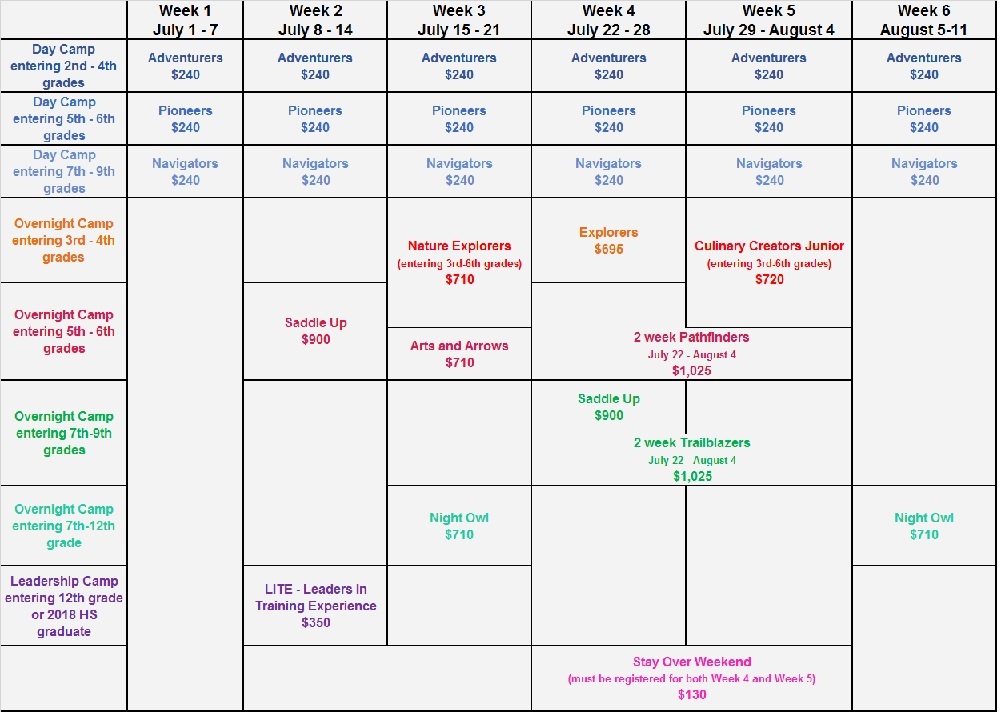 You can learn more about each camp program by clicking on the age groups to the right.
Stay Over Weekend
For those campers who just can't get enough of Holmes in one week, we are offering a weekend to stay at Holmes! Campers must be registered for both the week before and the week after the offered stay over weekend to register for the stay over weekend. Campers will be a part of Friends Day on July 28th and will travel to a local church for worship on Sunday morning.
Campers must be an overnight program during Week 4 (July 22-28) AND Week 5 (July 29-August 4) to register for the Stay Over Weekend.
Registration Fee: $130
Registration Discounts
Early Bird Discount
Register and pay your camp registration fees in full by February 9, 2018 and receive 10% off your camp fees!
Register and pay your camp registration fees in full February 10 – March 31, 2018 and receive 5% off camp fees!
Refer a Friend
When you recruit a friend to attend Holmes who has never attended Holmes before, both campers will receive a $20 Canteen credit! The Canteen credit will be applied when both the returning and new camper have paid in full. Limited to $20 credit per camper. Please complete the "Refer a Friend Credit Request" form in your online registration account to receive the Canteen credit.
Cancellation Policy
A $100 non-refundable deposit is required with each registration. If you cancel your registration at least 2 weeks before the start of the camp session you will be refunded payments minus the $100 deposit, or your payments may be transferred to a different camp session in the same camp season.   No refunds are granted for cancellations made within 2 weeks of the beginning of the camp session. If a camper is sent home sick, your fee will not be refunded, but the camper may return at a later time if there is space available.  If your camp session is cancelled by Holmes Presbyterian Camp and Conference Center, and you are not able to reschedule to another camp session in the same camp season, your fees, including your deposit, will be refunded.