All camps listed below will be housed in Cedarkirk Tents at Denton Lake unless otherwise noted.
Entering 7th-9th Grade
Trailblazers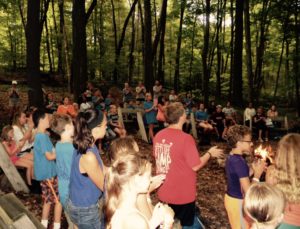 Come blaze new trails in your life with fellow campers.  Your week is filled with your favorite camp activities like archery, Bible study, canoeing, swimming, high ropes, cookouts, worship and more.  Come be challenged by camp activities and conversations that teach you more about God, you and others!
Register online
Culinary Creators
Do you enjoy spending time in the kitchen, creating tasty things for your family and friends? Come spend half of your day in the camp kitchen with Chef Bobby, learning culinary skills, food safety and new recipes using produce you harvest from The Farm!  The rest of your day will be spent enjoying some of your favorite camp activities, such as Bible study, swimming, archery and more!
Register online
Saddle Up!
Enjoy the fun and adventure of camp activities along with horseback riding for the beginner and intermediate rider.  Each day campers will receive lessons in basic horse care, safety and riding techniques at Crosswinds Equestrian Center, Lagrangeville, NY. The remainder of the day will be spent enjoying your favorite camp activities like archery, Bible study, swimming and worship. Participants will need long pants and sturdy footwear with heels. All of the other safety equipment is provided.

Register online

Aquatic Adventurers
If you love spending time in or on the water, you'll love this week!  You'll spend lots of time swimming, learning boating and canoeing skills, playing water games and more.  You'll also have the opportunity to put your new canoeing skills to the test with a day trip exploring Lake Dutchess, on the edge of camp.
Register online
Inspired by Creation

Experience a week of discovery, fun, laughter and endless creativity! Three alumni counselors will connect the past with the future by sharing camp traditions, while passing on the love and joy of camp. By using nature as a creative resource, make 2D and 3D projects, draw, weave, create handmade paper, craft with nature, learn knot tying, fire building, outdoor skills and cooking, and as a group, build a teepee. Feel the spiritual interconnectedness between self and the environment through hands-on art projects and experiences, while being part of a group that will become family.
Register online
Entering 7th grade – High School Graduates
Night Owls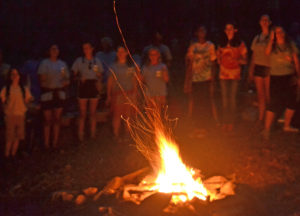 Do you like staying up late and sleeping in?  Then this camp is designed for you!  We will begin our day with breakfast at "lunch time", lunch at "dinner time" and cookout dinner around 10 pm. By day enjoy your favorite camp activities like arts and crafts, boating, swimming and more.  Explore and play at night with campfires, Bible study, night hikes, glow in the dark games and worship under the stars around 2 am. Bring flashlights and extra batteries to keep up with the fun!!!
Register online
Bike Camp
Bring your mountain bike to camp!  Together, you will learn some safety and basic maintenance skills before your group takes day trips to local scenic bike trails.  You'll also participate in some of your favorite camp activities including archery, Bible study, canoeing and more!  If possible, campers should bring their mountain bike and helmet, or campers can rent bikes when registering for Bike Camp.
Register online