You and Me Camp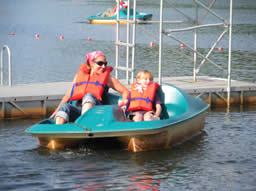 Have you thought camp sounds fun but you're nervous to come alone? Bring a parent, grandparent, aunt, uncle, or some other adult companion to camp with you! You will join other campers and their adult companions in a family community as counselors share camp activities with you. You will enjoy time creating arts and crafts, swimming, boating, visiting the Farm and learning about God as you strengthen your special relationship with your adult companion! Camp begins with registration at 3 pm on Friday, and concludes after lunch on Sunday.
Housing is in South Unit, our summer camp cabins, to provide campers an introduction to camp.
The cabins are not air conditioned and linens are not provided.

July 14 – 16, 2017
(Friday afternoon to Sunday afternoon)
$150 for 1 adult
$150 for 1 child