Summer 2018 Schedule will be announced soon!
 Click on your age group to the right to see
more information about each camp.
Our summer program develops self-esteem and self-confidence by encouraging each camper to:
Engage in Bible study and verbally demonstrate an understanding of Christian community.
Demonstrate respect for self, authority and the rights and property of others.
Develop responsibility through group living tasks.
Form an interest in exploring and enjoying the natural environment.
Express creativity through crafts, problem solving, worship and personal interactions.
Stay Over Weekend
For those campers who just can't get enough of Holmes in one week, we are offering a weekend to stay at Holmes! Campers must be registered for both the week before and the week after the offered stay over weekend to register for the stay over weekend. Campers will be a part of Friends Day on July 28th and we will travel to a local church for worship Sunday morning.
Bridges To Community Nicaragua Mission Trips
This summer we are partnering with Bridges to Community to host 2 high school volunteer mission trips to Nicaragua.  You can learn more about this one week and two week opportunity here.  Participants must be 15 – 18 years or older.
The Camp Experience
Campers are placed in cabins/tents with six other campers and a counselor. We maintain a 7:1 ratio for our campers and staff. One cabin/tent of boys (with their male counselor) and one cabin/tent of girls (with their female counselor) make up a "family group".  When campers arrive on the first day, they will decide together as a family which activities they will participate in during the week.
While at Holmes, days are full of fun and fellowship!  Every program is a little a different, campers get to enjoy:
Swim lessons                   Labyrinth                                Bible Study                   High Ropes
Row Boats                        Team Games                          Singing                           Fishing
Paddle Boats                   Sleepouts                                 The Slide                       Archery
Canoeing                          Nature Exploration              Cookouts                       Farming
Hiking                               Vespers                                   9 Square                        Prayer
Arts and Crafts                GaGa Ball                               Bakery                           Low Ropes and Teambuilding
Each day family groups of campers of similar ages will gather together for Bible study, evening activity and evening Vespers. Time spent in small family groups and large age group activities enable the campers to form a close Christian community. These opportunities are the foundation of our summer camp experience. Your child will create lasting memories and friendships!
Our Summer Staff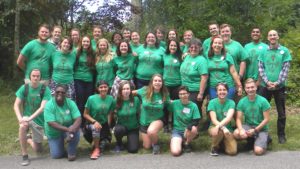 Excellent Staff
We hand pick our summer staff of about 40 young adults who are chosen for their ability to share a strong Christian faith, character, maturity, creativity and ability to work with children.  Staff spend over a week in training before campers arrive learning what you expect of a Holmes camp experience, how to engage campers quickly into camp groups, how to build a Home In the Woods, cook over a campfire, as well as learn safety skills (American Red Cross First Aid and CPR).  Some also learn specialty skills (Lifeguarding, ropes course and initiative facilitation and archery instruction). Our dedicated staff come from churches in the United States and around the world to share faith and broad world views as we live faith together at Holmes.  If you are interested in joining the staff this summer, visit our Job and Volunteer Opportunities page!
Holmes Presbyterian Camp and Conference Center is one of more than 2,500 camps that have achieved ACA Accreditation nationwide.
For over fifty years the American Camp Association (ACA) accreditation process has grown to keep pace with changes in the camp industry, expectations of the public, and the challenges of operating a business in today's highly regulated society.
The ACA-Accreditation Program:
Educates camp owners and directors in the administration of key aspects of camp operation, program quality, and the health and safety of campers and staff.
Establishes guidelines for needed policies, procedures, and practices for which the camp is responsible for ongoing implementation.
Assists the public in selecting camps that meet industry-accepted and government recognized standards. ACA's Find a Camp database provides the public with many ways to find the ideal ACA-accredited camp.
What Areas Are Covered?
ACA standards help with every aspect of camp management and operation:
Site: Fire protection, food service, sleeping quarters, utility and maintenance systems.
Transportation: Procedures concerning drivers, vehicles, and traffic on site.
Health and Wellness: Staff qualifications, facilities requirements, record keeping, storage and distribution of medicines, contact information, health forms.
Operational Management: Safety regulations, emergency communication systems, procedures for intruders, personal property regulations.
Human Resources: Staff qualifications, screening and training, supervision ratios, and procedures.
Program Activities: Aquatics, adventure/challenge, trips, horseback riding, staff qualifications for special programs.
Mandatory standards include requirements for staff screening, emergency exits, first aid, aquatic-certified personnel, storage and use of flammables and firearms, emergency transportation, obtaining appropriate health information, among others.
More information about Accreditation may be found at www.acacamps.org or www.campparents.org.
In addition to American Camp Association Accreditation, Holmes Presbyterian Camp and Conference Association operates under supervision of the New York State Health Department regulations governing summer camps. The Putnam County Health Department conducts extensive review of our planning materials, staff selection and training and camp operation. We receive 2-4 routine visits from the Putnam County Health Department each summer to confirm our compliance with regulations and a safe summer camp program.