Bring your confirmation classes to Holmes for a weekend full of exploring faith and enjoying fellowship with youth from other churches from the region!
We will spend time together as a large group, divided into small groups that represent all the participating churches, as well as some time for camp fun!
All r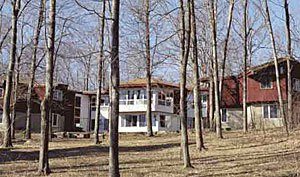 etreats will be held in Nunemaker, our youth retreat building with cabin-style rooms of bunk beds and shared bathrooms, with common areas for our sessions and fellowship.  Church groups will be divided by gender, with youth staying in rooms immediately next to rooms of their adult leaders. Church groups will be split as evenly as possible to create the small groups for the retreat, with adult chaperones facilitating discussions and activities. Meals are provided by Chef Bobby up the hill at Agape, Friday dinner through Saturday dinner.  As weather permits, we will also be able to hike and play!
Check-in will be Friday at 6 pm at Nunemaker, with dinner served at Agape at 7:00 pm.  The retreat will end Saturday with dinner, which will be served at 6:00 pm.
What to pack:
Clothes: The temperature at Holmes is often 10-15 degrees cooler, so pack clothes, jackets, etc that are appropriate for the weather! As we're able, we will be outside for games and free time.
Linens: Sleeping bag or sheets/blankets, pillow , towel, washcloth
Miscellaneous: Toiletries, Bible, flashlight, notebook/paper, pen/pencil
We encourage participants to leave their phones/tablets at home, or at least packed away for free time. We find that these are distractions to fellowship and conversations.
2019 Dates
March 22 – 23, 2019
April 12 – 13, 2019
Retreats will be limited to 75 participants; a minimum of 20 participants is needed to run a retreat.
Each church is expected to bring at least 1 adult for every 7 youth of the same gender.  Adult leaders will be expected to help facilitate small group discussions and activities, using topics and supplies provided.  Adult leaders have found these retreats as great opportunities to get to know their youth better, and have gained as much faith development as their youth!
Registration for these retreats must go through your church! Please print the 2018 Confirmation Retreat Brochure, making a copy for each youth and adult participant and submit them, and church check made out to "Presbyterian Conference Association" to Holmes Presbyterian Camp and Conference Center, 60 Denton Lake Rd, Holmes NY 12531.
If your church is registering online, please contact your Confirmation leader for your group's Group Hold ID number.  You must use your church's Group Hold ID when registering for Confirmation Retreats!  If you have created an account to register for previous retreats OR Summer Camp, please use the same log in – if you have forgotten it, please contact us and we can retrieve it.  You can register online here.