What a great evening!!!  over 100 friends gathered to sing happy birthday, to join in a camp song written just for the event, recognize great friends and partners, enjoy bidding at the silent auction and celebrate the great contributions of Holmes Camp to our churches and communities.
One highlight of the Auction was an original painting by Barbara Swanson Sherman.  This great piece of art was purchased and immediately donated to Holmes Presbyterian Camp and Conference Center. It now hangs in the lobby of Charlotte's Room for all to appreciate.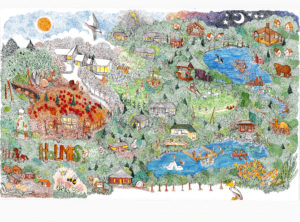 You can order a 10×14″ 252 piece puzzle for your own enjoyment.  send and email to Holmes@HolmesCamp.org with your request.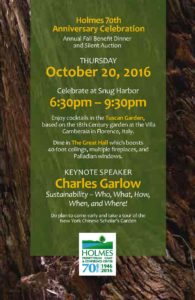 We had a great evening at Celebrate at Snug Harbor on Staten Island.
Originally a home for worn out sailors its board included the leaders of the Presbyterian Church and the Episcopal Church in New York City as well as city officials.  Snug Harbor is now a City Park and welcomes all for a  variety of activities.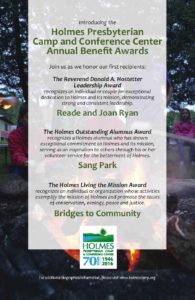 We recognized recipients of the first
—Rev. Donald A. Hostetter Leadership Award
Reade and Joan Ryan – Leaders and volunteers from First Presbyterian Church in Manhattan, New York City Presbytery Trustees, Tartan Fair, Presbyterian Senior Services and more.
—Outstanding Alumni Award
Sang Park – Alumni work day organizer and volunteer, Alumni Association Spark Plug, Cheerleader
— Holmes Living the Mission Award
Bridges to Community  is a local organization committed to providing a meaningful cross-cultural service learning experience for their volunteers, and at the same time engaging in sustainable long-term community development projects that have lasting impact for some of the most impoverished people in the Western Hemisphere.
"Shared Work" is one of Bridges to Community's core values, and it's at the heart of all of their programs. That's why volunteers are so important. Bridges to Community hopes that volunteers discover that their programs aren't simply about the house, or stove, or school that they're building, but about the ability of people from different cultures, places, and economic backgrounds to come together and accomplish something significant.  Based in Ossining, NY they partner with many local Presbyterian Churches in the New York metropolitan area and beyond to support youth and adult mission trips.  Bridges to Community shares a portion of the Holmes Mission Statement"where lives change."  Holmes hopes to partner with Bridges on numerous projects going forward to foster transformation and long term commitment among our participants. see www.bridgestocommunity.org for more info.
And we heard from our Speaker, Charles Garlow about his exploits thru hiking the Appalachian Trail and his thought on energy conservation.
Charlie Garlow served 28 years as an Air Enforcement Attorney for the U.S. Environmental Protection Agency. He was a lead attorney for air toxics issues as well as ozone depletion matters. Since 1967, he has been an advocate for smart transportation alternatives, alternatives to carbon based fuels, and environmental protection generally. A graduate of Harvard University's undergraduate college, and West Virginia University Law School, Charlie has served in a number of public interest positions as an attorney, including Nader's CorporateAccountability  Research Group, Legal Aid of Passaic County, NJ, Sierra Club of Connecticut, West Virginia Citizens Action Group, and the WV Attorney General's Office  Consumer Protection and Health Divisions. As a volunteer, Charlie has served on the boards of several community and national non-profits including solar energy, electric car, Rotary Club and PTSA groups.