70th Anniversary Benefit Gala
October 20, 2016 @ 8:00 am

-

5:00 pm
Event Navigation
Part of the 70th Anniversary Celebration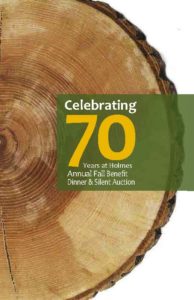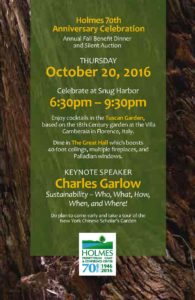 Join us for a spectacular evening of celebration

at Snug Harbor on Staten Island.
October 20, 2016
6:00 Cocktails
and silent auction
Dinner and awards
Speaker : Charles Garlow
Retired EPA Legal Counsel and
Past Vice President of the Sierra Club
About Snug Harbor – "haven for aged, decrepit and worn out sailors"
Robert Richard Randall founded Sailors' Snug Harbor as a "haven for aged, decrepit and worn out sailors" with his benefactors' bequest of 1801. Randall left his country estate in Manhattan, bounded by Fifth Avenue, Broadway, 10th Street, and the southern side of 8th Street adjacent to what is now Washington Square, to build an institution to care for "aged, decrepit and worn-out" seamen. Snug Harbor's trustees (appointed by Randall's will, they included the mayor of New York City, the president and vice president of the Marine Society, senior ministers of the Episcopal and Presbyterian Churches, the head of the Chamber of Commerce, and the chancellor of the State) decided to maximize the profits on the Manhattan property. They changed the proposed site of the institution to another piece of land bequeathed by Randall: a 130-acre plot on Staten Island overlooking the Kill Van Kull. Over the next century, Sailors' Snug Harbor expanded from its original three buildings to 50 structures and 900 residents from every corner of the world. By the turn of the 20th century, Sailors' Snug Harbor was the richest charitable institution in the United States and a self-sustaining community composed of a working farm, dairy, bakery, chapel, sanatorium, hospital, music hall and cemetery.
Snug Harbor's major buildings are representative of the changing architectural styles of the early 19th and 20th centuries. The first buildings were built in the Greek Revival style. As the complex expanded, new buildings were erected in the Beaux Arts, Renaissance Revival, Second Empire and Italianate styles. High Victorian decorative components were added throughout the 83-acre site.
check out Snug Harbor Cultural Center and Botanical Garden
Our venue for the evening is Celebrate at Snug Harbor
Watch for more details.