HOLMES Camp and Conference Center, located a short drive north of New York City, is a 550-acre camp and conference center set among pristine forests, lakes, cliffs, trails and wetlands in the hill country of northern Putnam County/southern Dutchess County in the lower Hudson River Valley (click here for map).  Ample free parking available for your event.  The location provides a beautiful view of the area and spectacular changes of seasons. No matter when you are here, it is a good time to be at the Holmes.
Holmes Camp includes two year-round conference centers, three year-round retreat cabins, two seasonal youth facilities, a rustic camping program, several tent/trailer and day group areas, and an environmental science and arts program.  Three lakes provide the natural resource for swimming and boating activities, as well as winter fishing and ice skating. Holmes Camp provides programmed events, as well as rental facilities for self-directed conferences and retreats.
HOLMES Presbyterian Camp and Conference Center is the outdoor Christian education and retreat facility of the Presbyteries of Hudson River, Long Island and New York City of the Presbyterian Church (USA) within the Synod of the Northeast, representing nearly 260 congregations and 55,000 members in the metropolitan New York area. We welcome all who want to attend our camping and conference programs, and no one is excluded because of religious belief, race, gender, age or national origin.
Accreditation and Certification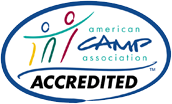 To further assure parents that their children will enjoy a fun, safe, meaningful experience, HOLMES Presbyterian Camp and Conference Center has voluntarily submitted to the accreditation process of the American Camp Association. This organization is the only nationally recognized group governing youth camping professionals. Holmes Camp is certified as an Accredited Camp by the American Camp Association. Having this accreditation means we have met the highest standards in the quality of camp health, safety, programming, personnel and administration.
The Rev. Peter Surgenor, Executive Director, is an American Camp Association Certified Camp Director (CCD), which means he as undergone additional evaluation and study and has been a professional camp director for over 30 years. He previously served as the elected President of the American Camp Association where he also served as National Board Member, Section President, Education Committee Chair, Standards Visitor, and Section Treasurer. He has also served as Dean of the Camp Director Institute Faculty. Peter can be reached at 845-878-6383 or psurgenor@holmescamp.org.
Natasha Taylor (Summer Camp and Youth Programs Director) is a graduate of Northern Michigan University with a degree in Recreation Leadership and Management. She has worked at Camp Wyoming (a Presbyterian Camp in Iowa), Gracefield Christian Camp and Retreat Centre (a Presbyterian Camp in Quebec), Holmes Presbyterian Camp and Conference Center and as a traveling day camp director for Camp Hanover (a Presbyterian Camp in Richmond, VA). Before coming to Holmes she was Director of Children and Youth Ministries at a Methodist Church in the Richmond Va area. Natasha is a wonderful addition to the Holmes Camp staff.